When Tim Burton, Nashville and Old Hollywood combine, this is what happens.  A crazy cool Beverly Hills Hotel wedding styled to absolute perfection by Celebrations of Joy and boasting some of the coolest details you will ever see.  Think lush pink blooms, a candlelight reception and a black and champagne Vera Wang that will, put simply, take your breath away.  It's what we're calling a non-stop day of pretty and you can see every last beautiful moment captured by Michael Segal right here in the full gallery.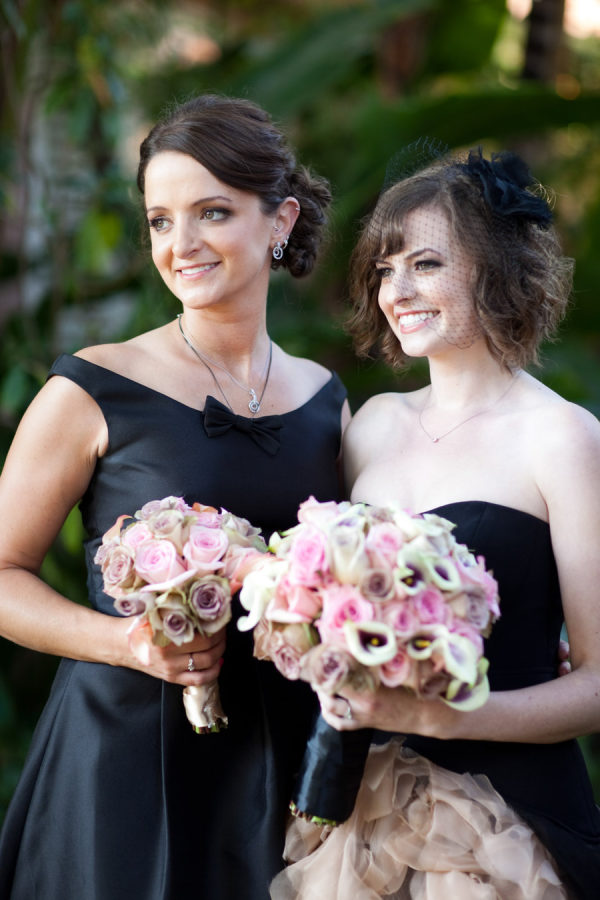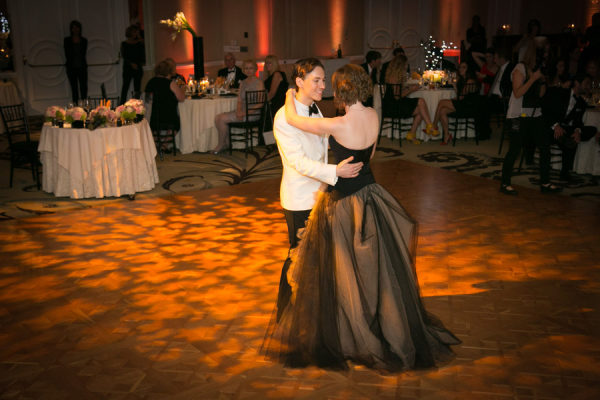 From Celebrations of Joy… When we met Kelly and Brandon for the first time, we knew they had not only an amazing relationship, but a fun and creative flair that had to be featured at their wedding. And when they told us that they wanted their wedding to be Old Hollywood meets Nashville with a touch of Tim Burton we knew the results would be amazing.
Working with the color and style of the dress, which was a total surprise to the groom, we brought in Maggie Jensen Floral Design to create three very different table arrangements. One combined Tim Burton-like black Manzanita branches with Metalina roses and twinkle lights, another dripped with off angled Mozart Callas Lilies and a third was filled with classic roses in champagne and dusty rose hues. To continue with the Burton influence, a black and white striped wedding cake was created by Joanie & Leigh Cakes, and as the couple was obsessed with their dog, Ziggy Starpup, a French Bulldog bride and groom graced the top of the wedding cake.
Inspired by the menu at the Polo Lounge at the Beverly Hills Hotel, we designed and hand made custom menu cards with black and white photos of the couple with the hotel logo on the front and the menu on the back. The tables were named after entertainment icons: musicians, directors and authors that influenced the couple and each escort card had not only a photo but also a description of why they chose each icon.
To celebrate Kellys college years in Nashville, we worked with Brad Vetter, a show print designer originally from Nashville, to design a letterpress invitation reminiscent of a concert poster, and displayed the full size concert poster as guests entered the ballroom.
From the Bride… We wanted to create a unique and creative wedding that showcased our personalities. Choosing The Beverly Hills Hotel as the wedding location pretty much took care of the former, and everything else seemed to fall into place as soon as I laid eyes on my black Vera Wang gown. The inlet of the gown added champagne and pink hues to our original black and white color palette.
After dinner, I changed into a one of a kind party dress designed by Jenny Reyes from her Geronimo line.
One of the most important aspects of the wedding was that Brandon and I wanted it to be fun above anything else. We both work in music, and our DJ, Tony Liebetrau, combined our alternative tastes with pop hits and oldies. Our photographer, Michael Segal, opened a photo studio that our guests flocked to in droves. We put cigars on the patio and passed out glow sticks a little before midnight. But what might just be my favorite touch was the late night snack. We opened a waffle bar with normal waffles, chicken waffles, bacon chive waffles, French fries, and mini vanilla and chocolate milkshakes!
Brandon and I met while both working in the Music Department at Creative Artists Agency in Los Angeles, CA during the summer of 2008. I asked him to take me to shows via a Post-It note that I left on his desk. What began as a few informal dates between concerts and occasional Saturday trips to Malibu quickly developed into a lasting connection that would keep us spending our long weekends and vacations visiting one another while I finished my senior year at Vanderbilt University. Shortly after my graduation, I returned to Los Angeles to continue working as a full time employee at CAA. It was then that our connection and fondness evolved and we began to fall in love. In 2010, Brandon proposed with his Grandmothers engagement ring, and of course, a few Post-It notes. This wedding was the best day of our lives, and it exceeded all my expectations in every single sense!
Photography: Michael Segal Photography | Videographer: Epoch Productions | Gown: Vera Wang | Floral Design: Maggie Jensen | Invitations: Brad Vetter Designs | Wedding Shoes: Valentino | Bridesmaids' Dresses: Lela Rose | Wedding Planner: Celebrations of Joy | Makeup Artist: Jenna Nelson | Hair: Alissa Smith of Meche Salon | Calligraphy: Kathryn Murray | Lighting: Jorge Alvarado of AGF | MC: Bay Dariz | Makeup: Jenna Nelson | Music: Anthony Liebetrau of Red Shoe LA | Party Dress: Geronimo | Pastry Chef: Joanie & Leigh Cakes | Printed Detail Designer: Celebrations of Joy | Rentals: Signature Party Rentals | Venue: The Beverly Hills Hotel
© Style Me Pretty : The Ultimate Wedding Blog, 2013. |
Permalink |
2 comments |
Add to
del.icio.us

Post tags:
Post categories: Whimsical

Reblogged 4 years ago from feedproxy.google.com