A-line Full Gown Floor-length Bridal Dress Gown Slip Petticoat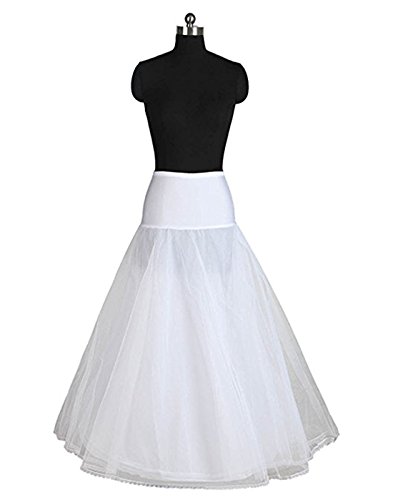 This petticoat is perfect for a-line wedding dress. It will make your wedding dress look more pluffy and beautiful. Stretch spandex upper will keep things smooth underneath your dress.
HOW TO CARE FOR YOUR PETTICOAT
ROMOVE THE CREASES: It may have been stored in a bag and tightly packed for shipping so it could look a little flat and wrinkled. Remove the petticoat from its packaging and give it a good shake to loosen the fabric up. Hang it up for a day or two to let the wrinkles fall out, or hang your petticoat up and use the steamer to steam the fabric.
WASHIING INSTRUCTIONS: Please do not wash your petticoat very often. When it is time to give it a wash, please hand wash, scrub with a spongy brush, please do not take out the hoops.
STORING YOUR PETTICOAT: There are two hoops at the bottom of the petticoat, it is not easy to refold it back. You may find some helpful Video on YouTube. Hope this helps.
About BEAUTELICATE
BEAUTELICATE is a trademark that is registered in the United States and European Union. Having been in manufacturing clothing and accessories for girls and women, we have our own professional and experienced Research & Development Department. New products with diligent design and superior quality will be released every season. When buying BEAUTELICATE products you will get excellent quality and best customer services.
*Any infringement of BEAUTELICATE trademark will have to bear legal responsibility!*
Product Features
FLOOR LENGTH-The Length of this Mermaid Slip is 40 inches (approx.102cm)
3 LAYERS-2 Layers of Upgraded Hard Net and 1 Layer Elastic Cloth Make a Great Shape.
3 AVAILABLE SIZES-Flexible Spandex Waistband Accommodates Waist Measurements from 24-43 inches.Size S/M FITS US SIZE (2-8) accommodates waist measurements from 24″ relax to 35″ stretched. Size L FITS US SIZE (10-14) accommodates waist measurements from 27″ relax to 38″ stretched. Size XL Fits US(16-Plus) accommodates waist measurements from 30″ relax to 43″ stretched.
ADJUSTABLE HOOP-1 Hoop at the Bottom. The Circumference of the Hoop is 102 inches (approx.259cm). Diameter of the Bottom Hoop is 32.5 inches (approx.82cm). Hoop is Adjustable.
PERFECT FOR A-LINE OR BALL GOWN

WEDDING DRESSES

-More Style of Petticoat, Please Click Our Store Name "BEAUTELICATE" above the Tile.

Reblogged 5 months ago from www.amazon.com